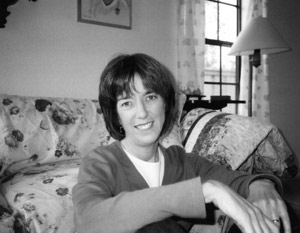 I grew up in New York, Illinois and California. I was absolutely positively certain that I would become an actress. I was so sure about my future that, while at Santa Barbara High School, I decided to skip college completely and jumpstart my career with professional theater training. At eighteen, I applied to The Drama Studio in London. During the interview, the director asked me who had most influenced my life. I said, "The Beatles." I got in. The next year, I attended The Neighborhood Playhouse in New York. Later, my mother talked me into taking some classes at San Francisco State University, but I didn't stay long enough for them to add up to a degree or even a major. If my mother was disappointed, she kindly refrained from comment.
For several years, I was a waitress at the Bottom Line, a music club in New York. I got to see a lot of good bands. At some point, though, I noticed that I wasn't turning out to be an actress, after all. One night during a Herbie Hancock show, I was lowering a pizza onto a table when it came to me that if I didn't do something quickly, I might end up waitressing forever. So, at twenty-five, I enrolled in New York University. My new plan was to become a clinical psychologist. Two years later, I graduated magna cum laude with honors in psychology, a new member of Phi Beta Kappa. No one was more surprised than I was.
After graduation, I got a job working for a publishing company, Prentice-Hall, in a division that published college textbooks, where, unfortunately, I made even less money than I had as a waitress, and there was no music. Pretty soon, I noticed that I wasn't turning out to be a psychologist, either. And I was fairly sure that college textbooks were not my calling, so at night, I started writing short stories. I was twenty-nine by then. To my surprise, I sold these stories to The New Yorker, Redbook, Seventeen, Mademoiselle, and The Mississippi Review. Eventually, I started writing and publishing novels. I did not take any creative writing classes, as I have always felt that drama school killed my acting career. Rather than have to start over with yet another career, this time I decided to stay far away from professional training.
Around the time I started publishing short stories, I went to my cousin's wedding, where I met my husband. We have two children, and we live in San Diego. You just never know how things are going to turn out, do you?
Please note: Until I got this website, I had no idea how many other Sara Lewises there were. Now I do, as most of them have e-mailed me. Among the many Sara Lewises in the world are a British one who writes cookbooks for families with young children, an associate professor at Tufts University who publishes her research on the mating behavior of fireflies and seahorses, and a really cute baby with her very own web site. Although we all have the same name with the same spelling, we are, in fact, entirely different people. If you would like to contact Sara Lewis, the British cookbook author, I suggest that you try writing to her in care of one of her publishers. If you'd like to reach Sara Lewis, evolutionary ecologist, try the Tufts University web site. I'm pretty sure that Sara Lewis, the cute baby, doesn't know how to type yet, but just give her time, and I'm sure she'll publish something too.
Listen to Sara on World Talk Radio's Writer's Roundtable
Text © 1992-2007 by Sara Lewis.
Sarah Lewis