I am available to attend your reading group discussion of my books in person in southern California, and by speakerphone in other locations.
Invite Sara to your reading group!
View the reading group guides for Second Draft of My Life, The Answer Is Yes and The Best of Good.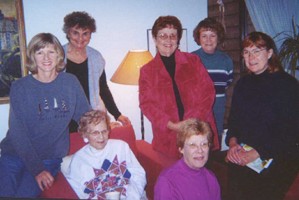 I visited with this Virginia book club, which had read The Answer Is Yes, by speakerphone.
Back row, left to right: Kittie, Joan, Terry, another Sara, and Lorraine.
Front row: Emilie and Diana.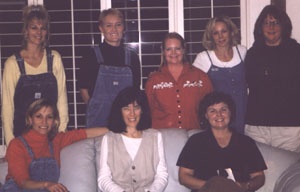 Back row: Jill, Nicola, Elizabeth, Lorri, DeeAnn
Front row: Penny, Sara, Carrie
La Mesa, California
Here's what reading groups are saying about Sara Lewis's books:
"Set aside some time to read But I Love You Anyway, because you won't want to put it down. As I read this book, I related to Mimi, her family and friends, and realized that I know people like them. I rode along with Mimi on her roller coaster of emotions. It was a fun ride with unexpected twists and turns. But I Love You Anyway is a delightful book and I was sorry when it was over."
-Nicola, La Mesa, CA
"Sara Lewis writes for and about the everyday person. Her writing is uncomplicated and true to life. Her characters are familiar and genuine. In The Answer Is Yes, you will enjoy an insightful and candid story with characters that could be any of us. Your heart strings will be gently tugged and your imagination will soar."
-Lorri, La Mesa, CA
"In The Answer Is Yes, Sara Lewis takes the reader on a hilarious, self-searching journey. Her characters are real, deep and quirky. For me, an adoptive mother, Sara let me see an adoptee's questions and anxieties. It's an exciting look at families and relationships."
-Jill, La Mesa, CA
"Sara Lewis is a wonderful writer. Get ready for a fast, fun read! You'll wish that you could take some of the one-of-a-kind courses offered by the Institute of Affirmation."
-DeeAnn, La Mesa, CA
"The characters were as realistic as my neighbors, and I loved getting to know them. Great job, Sara! Can't wait to read more!"
-Melissa Galyon, Annandale, VA
"The Answer Is Yes caught and held my interest from the start. My husband was adopted at the age of 6. I have been trying to understand [him] for almost 30 years and this book helped me a lot. Thank you so much for writing on this subject. I very much enjoyed the characters, and the short 'ads' before each chapter gave me a good laugh. Well done Sara!"
-Syl Joevenazzo, Vulcan, Alberta, Canada
"What a creative and original book! I loved reading about Jenny's journey to happiness via the Institute of Affirmation. I could relate to her from the very beginning—so much so, she was like my best friend. Kudos to Sara Lewis!"
-Dianna Wilmoth, Miami, OK
"My book club read The Answer Is Yes, and our answer is a resounding YES! Sara Lewis' characters are quirky and fun. We met Jenny, and it was like deja vu as she felt our feelings, walked some of our own paths, and found her way home."
-Leslie, Dayton, OH
Text © 1992-2007 by Sara Lewis.
Sarah Lewis